By Tom Gray, Imagination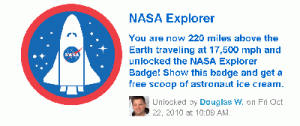 Astronaut Douglas H. Wheelock has just become the first person to check in to Foursquare from space, earning himself the NASA Explorer badge and, apparently "A free scoop of Astronaut icecream"  Not sure whether the reward really justifies the expense, but well done to him anyway…
Wheelock is not the first to score an extreme badge – in April this year 15-year-old Parker Liautaud became the first person to check in at the North Pole, earning himself the Last Degree badge, and the following message "Congrats on making it to the North Pole! Take a deep breath, plant your flag and be sure to get home safe!"
Both of these may be little more than stunts – it was after all Wheelock's first (and dare I say probably his only) check in, but it does demonstrate some key differentiators of location-based social networking that offer great opportunities to brands.
1.    It is intrinsically linked to the real world
Whereas interaction on traditional (if you can use the word traditional to describe something that's less than a decade old) social networks such as facebook and youtube are mainly centred around online experiences or online sharing of content created offline, Foursquare and other location-based networks are intrinsically linked to real world experiences. They literally don't work unless the participants are out there "doing stuff".
For brands this is hugely exciting because it offers the opportunity to link the "viralness" of online networking with the rich return of real life experiences. Engaging with users online is one thing, but if you can inspire them to go somewhere and do something in the process, you'll have given them a much more tangible experience of your brand.
2.    It offers huge braggability
We all know that the best content carries social cachet – whether it's that blurred picture of you with last week's X-Factor evictee, or the fact that you were the first of your friends to "like" a new band, a key driver behind the success of social media is the conspicuousness of it, the "look at me" value of user interactions, whether that is creating, sharing, or consuming content.
Foursquare takes that a step further by literally badging user achievements, creating a tangible brag list, and a challenge for others – can you take the mayorship off the current mayor? Can you be the first of your group to unlock a specific badge?
3.    It adds  a game dynamic to social networking
And with braggability comes competitiveness.
In the case of Liautaud, he only just managed to unlock the badge, beating fellow foursquare user David Newman in a straight race to the pole and the prize check-in. The sense of a challenge, the thrill of the hunt, and the bragging rights offered by going one better than your mates all inspire foursquare users to get out there and interact.
Again, a compelling opportunity for brands, and one that has been exploited by everyone from VW, with their , to  Nike Grid , and now McDonalds, who have opened up their own farm on Farmville.
So back to Wheelock. Is it actually technically possible to check in from 220 miles above the earth? Are you allowed to take your smartphone onto the International Space Station?
In the end it doesn't really matter, all I know is that my collection of badges are starting to look decidedly pedestrian. Time to start aiming a little higher…