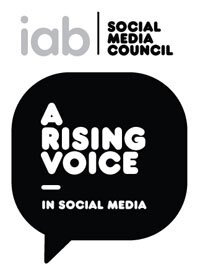 Why we're dedicated to nurturing Rising Voices in Social Media
The IAB Social Media Council has a responsibility – as one of the most significant collectives dedicated to social media in Europe – to ensure the industry grows ethically, shunning the hyperbole in favour of teaching those just beginning in the area about the realities of working in social media.
This is why we've shunned the self-promotional alcohol-fuelled back-slapping networking parties that seem to have become the norm to launch the IAB Social Media Practitioner Programme – a series of 5 sessions, all 2 hours in length (complete with homework) designed to turn new starters within the industry into real experts.
Social media is a vast, complex and thoroughly diverse space, so we believe that an introduction should be much more than a one-hour presentation. This is why we're inviting 60 social media beginners every six months to sign up and let us teach them how to become a social media practitioner.
We've employed the collective expertise of the IAB Social Media Council – representing media owners, creative, media and social agencies – to help nurture upcoming talent in the industry and provide young workers within the industry with the foundations needed to succeed.
Covering definitions of social media, industry research and all the case studies we can get our hands on, over 5 months our delegates will have all the latest, most practical knowledge at their fingertips. From word of mouth marketing to paid-for advertising, research and measurement to public affairs, this is an essential induction to the social media space.
Attending we have a real mix of social media enthusiasts – junior creative/media agency staff, UK marketing/brand managers with modest experience in the area and industry-switchers, coming from traditional into digital.
At the end of the course, having attended each session and successfully completed the relevant assignments, our delegates will graduate as an IAB Social Media Council 'Rising Voice in Social Media', provided with a badge to announce their commitment to developing in the industry.
Meet our Rising Voices, April – August 2010!
We are extremely pleased, proud, emotional even to introduce you to our first set of Rising Voices in Social Media, with everyone dedicated to become a real expert, rather than just bragging about it on Twitter.  Here you'll find (those delegates who agreed for their details to be shared), their  blog URLS, Twitter accounts and photos so you can recognise them at the next event! We encourage all our Rising Voice attendees to get in touch with each other, start following and commenting on blog posts to really get the most out of the programme.