by , new business manager at Skive
When "social media"is mentioned by brands it all too often means "do we need a twitter/facebook page?" as if the answer lies in the platform. Those with any clout realise it's about leveraging the platforms to achieve your goals as a brand. The exciting thing about social media sites is that they can be seen as blank pages for great creative ideas to run
free. Pumping out offers on twitter/facebook may be functional but it is a drop in the ocean of what can be done if only a little creativity is applied.
On the way in to work today I noticed that they're opening up a Yo Sushi.
In contrast to their bland product they have made great use of the construction site by putting two social media calls to action on the boards outside the restaurant.
We are invited to follow them on twitter and tweet "London" for a chance to win a meal for 4 on the opening night. Personally I'd rather pay to eat somewhere else, you call me a huge food snob but sushi is meant to be tasty as opposed to just cold – just a  thought.
I'm a big fan of cross platform marketing and it doesn't need to be complicated/expensive. This is a simple, cheap and possibly effective use of outdoor to drive engagement online. As good as this is I think it still misses a trick or two.
1.       Yo Sushi ask us to tweet "London" – and that's it. Who is going to want "London" in their feed except people who tweet random city names for the sheer hilarity of it? They should have said "tweet why you love Yo Sushi" or "tweet Yo Sushi rules for a chance to win!"
2.       There's a similar mechanic for Facebook which falls foul of the same problem.
3.       It wouldn't have cost them  much to try out other channels such a flickr. They could have printed a cool image for people to interact with and have their photos taken next to and then got them to upload it to facebook/flickr etc.
Here's an example of this being done really well by McDonalds: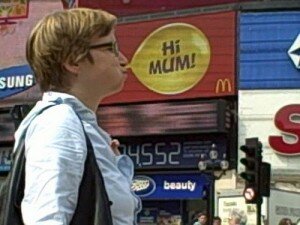 I get the feeling that Yo Sushi are dipping their toes in the water here and don't fully understand the integration of offline and social – but it's a good start.