By , Head of Digital Media, Royal Opera House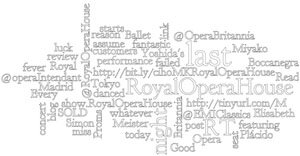 Pretty much every UK arts organisation now has a full-set of social-media cards: YouTube channel? Check. ? Yes indeed. Obligatory ? Why, yes of course. These combine with Flickr and Audioboo, blogs and wikis, podcasts and video channels to create a new kind of cultural landscape in which an audience member might never need to enter a gallery or auditorium to feel like they've seen the show.
But why are we doing it? Just like consumer brands, cultural organisations want to spend more quality time with people who care, or might grow to care, about them. The majority also need to cultivate customer loyalty and develop new, paying audiences. There are also traditional customer-service objectives to fulfil, and aspirations for brand building and international profile. But there are other motivations that make the challenge of creating a cultural social-media strategy more complex to execute, and success more difficult to measure.
Every publicly funded organisation has a responsibility to the tax payers who pay our subsidies – stakeholders who might never seek-out the kind of art that we make, but who are contributing to its creation. There are fundraising and sponsorship opportunities to think of, and public and formal education obligations to be fulfilled. There is also the holy grail of artistic development. Just like our colleagues in the worlds of print publishing and broadcast, we're trying to develop products and paradigms that allow us to share our work in new and more effective ways. How might an or Shakespeare play transpose to ? What happens when you put an exhibition on Flickr ? How does your collection look when it's photographed by the visitors to a gallery?
With these diffuse aims, and budgets that make a shoestring look like a thick cashmere scarf, it can be very difficult to get it right – and even harder to measure the ROI. As the number of available channels multiplies, who decides whether you become active on Foursquare and who empowers you to take a risk with your hard-won copyright? What happens when you Tweet so infrequently that people forget they were following you? And who can remember why you were Tweeting anyway? Is it just because everyone is or was there actually a point?
And so how does a cultural organisation develop a social-media strategy that delivers value for money and increases audience engagement, while doubling ticket sales among hard-to-reach audiences? That raises the bar for artistic creation and induces luxuriant levels of sponsorship, while proving the worth of the organisation to 70 million people and recruiting word-of-mouth ambassadors? And which enables it to respond convincingly to every negative comment with the kind of easy tone that makes hundreds of thousands hang on its every Tweet, and delivering an agreed number of active participants and paying back to curriculum-based learning… Well, probably, it doesn't. Or at least it can't without a lot of planning, a bigger budget and a different level of staffing.
So what should we be trying to do? In my work at the Royal Opera House, we should definitely start setting more objectives – defining success at the start of the project and then iterating the delivery until we've exceeded the goals. Across the sector, most of us should be doing less more effectively. We should stop republishing the same marketing messages to every channel, and spend more time connecting with each different audience group. And we should stop obsessing about numbers, because a deeper level of engagement from a committed audience member should be worth much more than a quick RT-fest in the hope of a competition prize.
Some of the best digital projects in the cultural space have gone back to basics, focusing on the qualities that make an organisation distinctive and looking to the audience to help deliver the work. If only one per cent of the people who like you on Facebook like you a lot, then you have the beginnings of a cohort who can help to create content and moderate a community – and from this well-nurtured acorn, a very big tree could eventually grow.
Creating a small number of high-quality projects is more likely to change expectations across the sector, and influence colleagues, audience members, funders and potential partners. The reality is that by trying to keep up with everything that moves in the social-media milieu, we might be overstretching ourselves and doing more harm than good. So perhaps the time has come for us to start closing down those extraneous social-media channels and putting more effort into using the Internet for what we're really good at: creating great artistic experiences.